With countless supplements on the market today, there are a few factors to consider when choosing a multivitamin. "It's important to first point out that multivitamins are not actually necessary for everyone," says Laura Moretti, MS, RD, a Clinical Nutrition Specialist who specializes in sports nutrition and female athlete triad at Boston's Children's Hospital. "If you're eating a balanced diet where you consume a variety of nutrients, you might not need one."
However, it is recommended that certain groups of people take a multi each day in order to fill some nutritional gaps. And while it's best to consult with a primary care physician or registered dietitian about your individual needs, Moretti offers a quick primer on multivitamins before shopping at your favorite wellness store.
WHO SHOULD BE ADDING A MULTI TO THEIR REGIME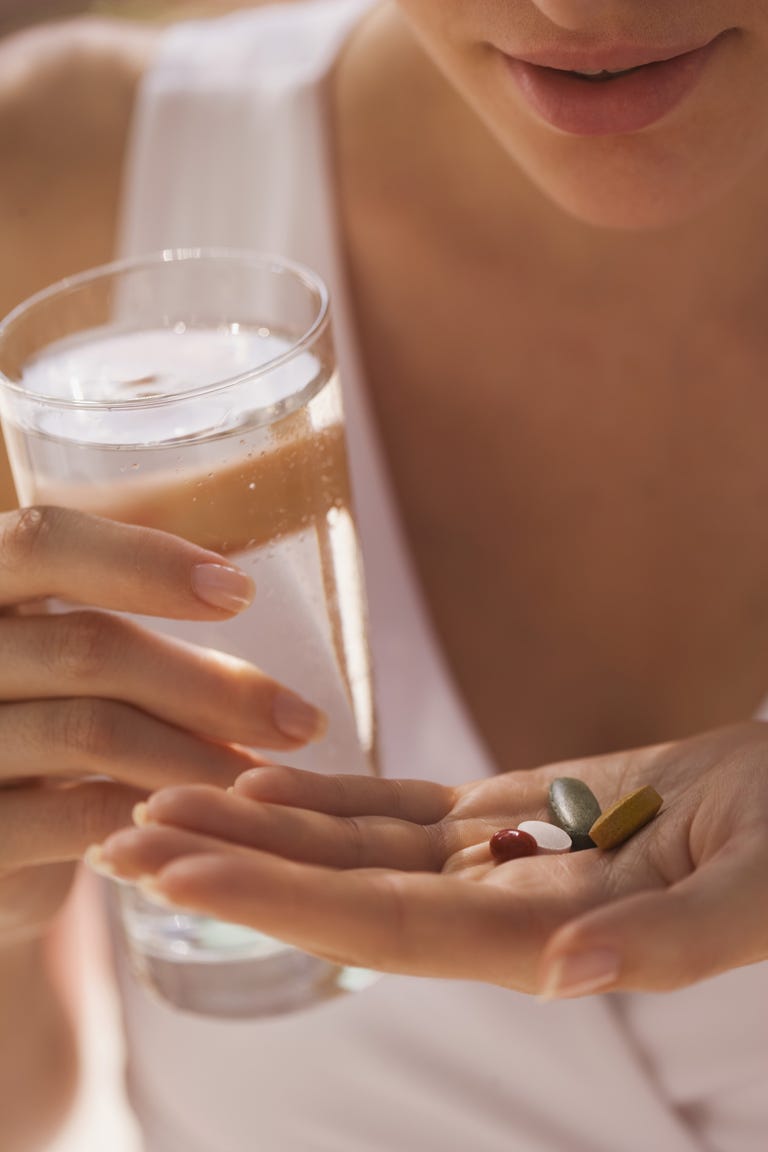 According to Moretti, those who do not consume a healthful diet, who eliminate one or more food groups, who follow a vegan or vegetarian diet, or those have a poor appetite (possibly due to health complications) may not be receiving the 27 nutrients the body requires. "There's a lot of potential deficiencies with these lifestyles and we just want to make sure you're getting everything your body needs," she states.
HERE'S WHAT A WOMAN NEEDS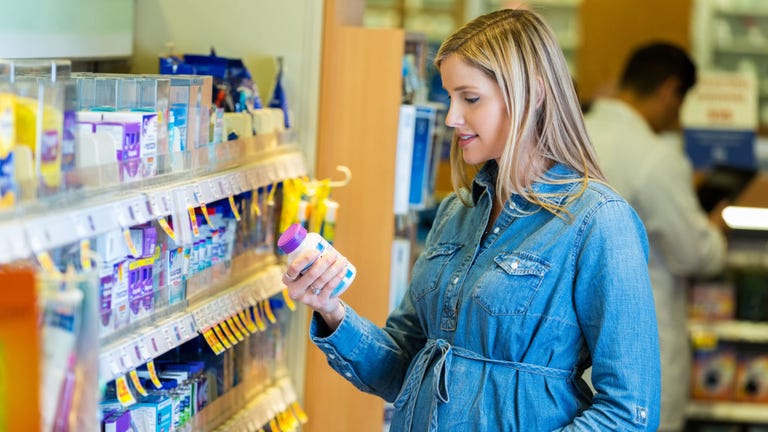 As a general rule, Moretti says the top essential nutrients for females include folic acid (for childbearing-age women who might become pregnant and pregnant women), calcium, and vitamin D. "Low bone density is something we see a lot, so ensuring that females, in particular, are getting an adequate amount of calcium and vitamin D will help for bone health," she explains.
The Centers for Disease and Control and Prevention recommends that women of childbearing years take 0.4mg of folic acid, while the US Preventive Services Task Force states that dosage can climb to 0.8mg. Moretti suggests 1,000 mg a day of calcium—taken in separate doses since we only absorb about 500 mg of calcium at a time—and at least 1,000IU of vitamin D. "Your doctor might recommend a higher dosage of vitamin D, but that would be something determined by a blood test."
DON'T STRESS ABOUT THE FORM…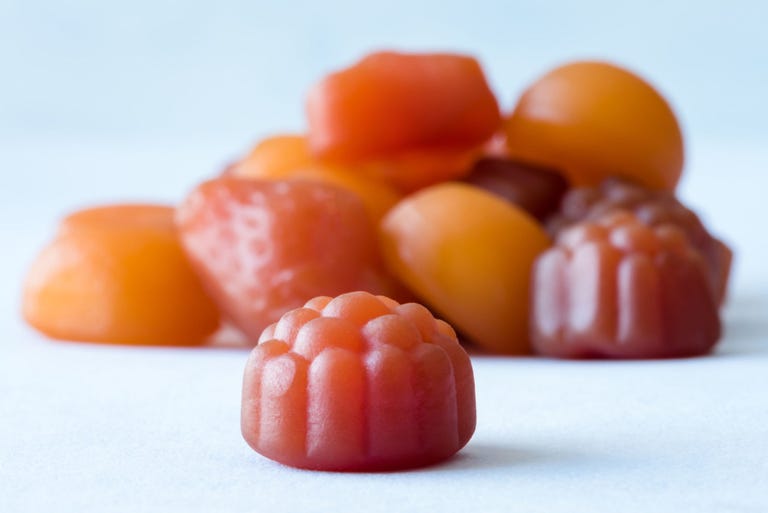 Whether you choose a capsule, tablet, powder, liquid, or chewable supplement is entirely your choice. "I'm fine with any form," says Moretti. "The way I see it, whatever is easy for someone to commit to will work!"
…OR THE TIME ON THE CLOCK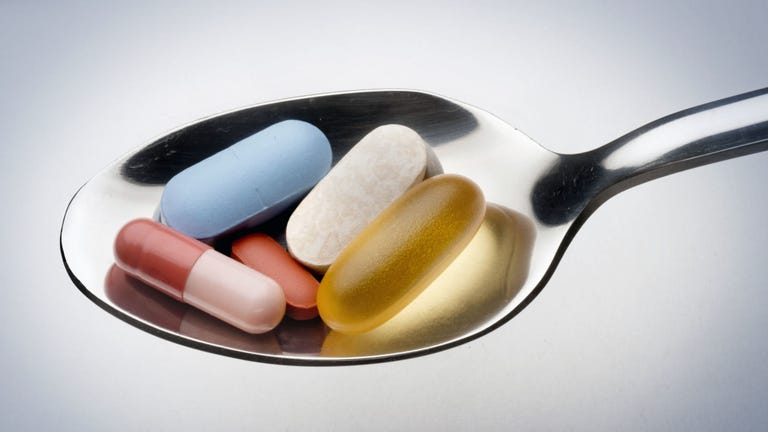 And there is no better time of day to take your supplement, either. "if it's in the morning after eating breakfast or at night before going to bed, it does not matter—as long as you're getting it in," says Moretti.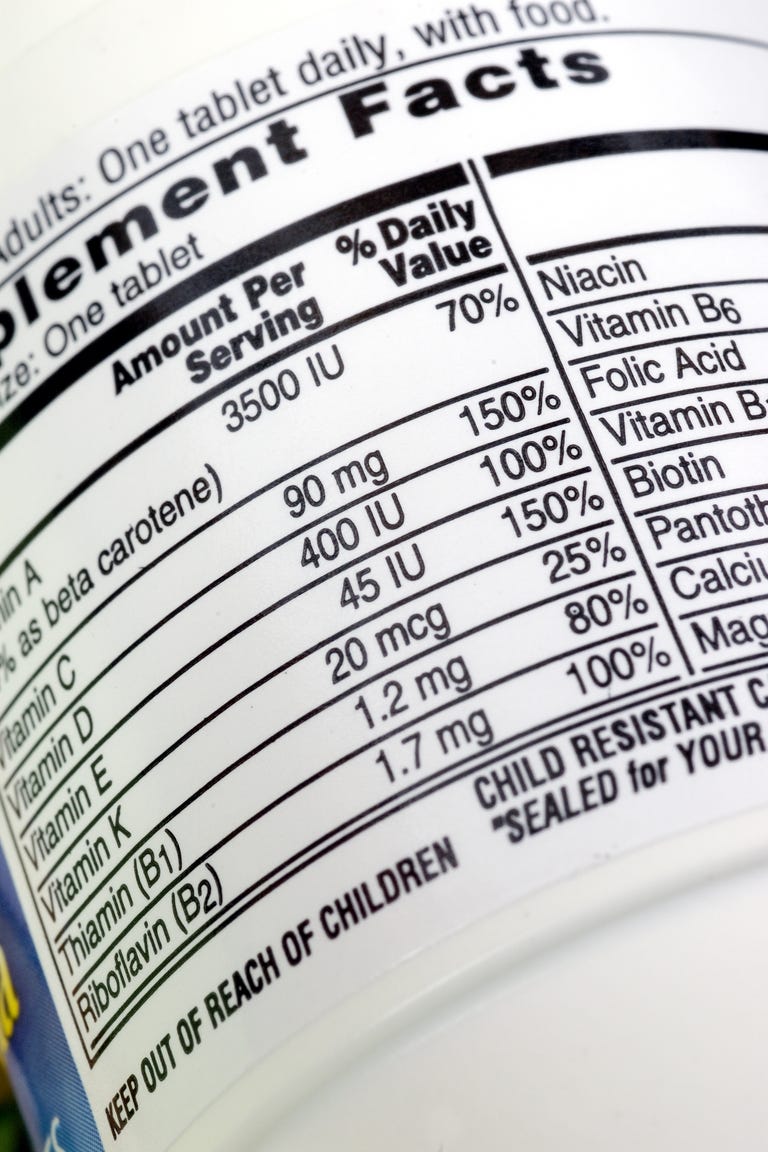 Keep in mind that supplements are monitored as a sub-category of the Food and Drug Administration (FDA). "They're regulated as a food, not like a drug, so the FDA does not have to look at these products before they hit the shelves," continues Moretti. She warns against multivitamins that promote increased energy since they may contain stimulants, which could lead to numerous side effects, such as headaches, dizziness, increased heart rate, disturbed sleep patterns, and anxiety. "Be careful," she adds.
With the approval of your doctor, we've listed 10 quality multivitamins to consider:
ONE-A-DAY WOMEN'S MULTIVITAMIN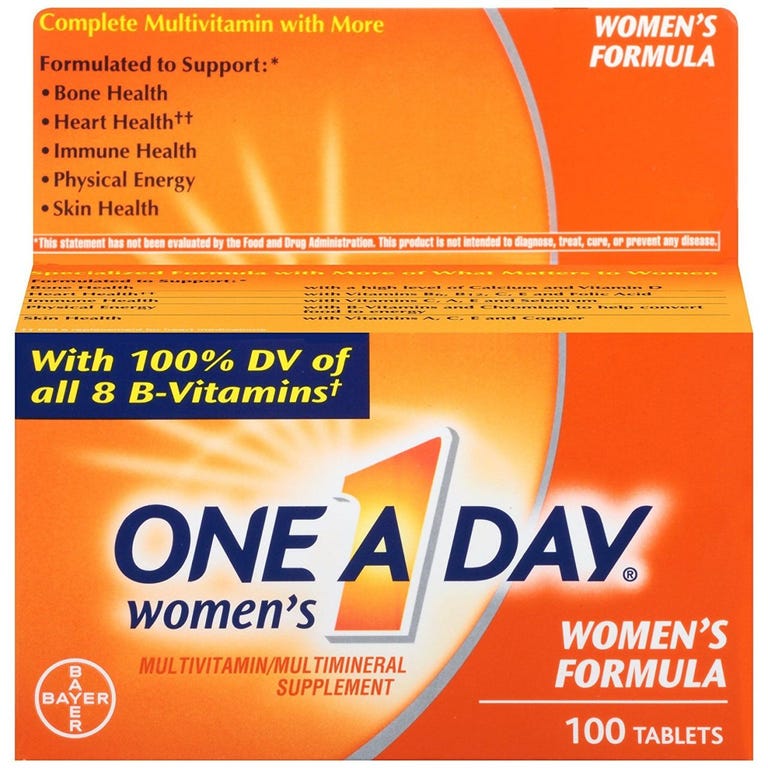 BUY NOW:$8, amazon.com, walmart.com
Moretti regularly recommends this traditional product to her clients since it contains the essential vitamins and minerals at an affordable price. "Some people complain of nausea or stomach upset, which can be a reaction to iron," she adds. "If this happens, make sure to take the supplement with a meal."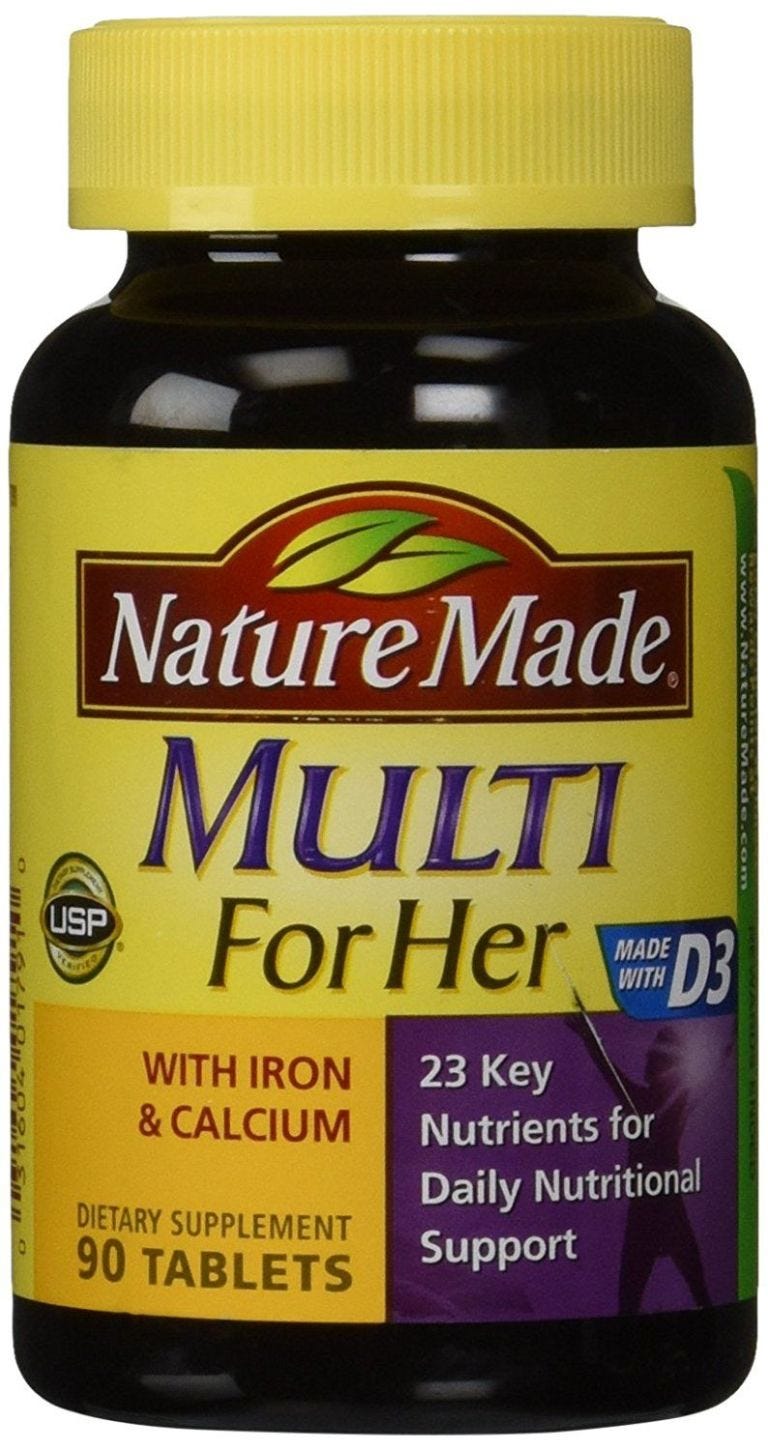 BUY NOW: $11, amazon.com, walmart.com
Another reputable brand that Moretti recommends, this supplement doesn't contain any artificial colors, flavors, or preservatives. It's also gluten and yeast free, which makes it a viable option for those suffer from celiac disease or yeast overgrowth.
RAINBOW LIGHT VIBRANCE WOMEN'S MULTIVITAMIN PLUS BALANCE & ENERGY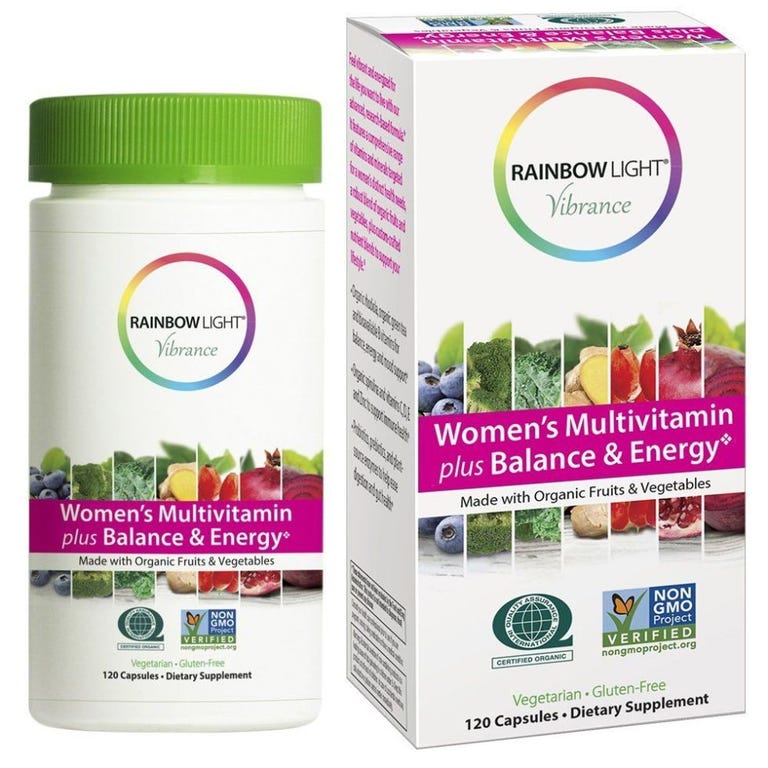 BUY NOW: $55, amazon.com, jet.com
While more expensive that many supplements on the market today, this multi made from Whole Foods also includes 1,076 mg of a certified organic blend of fruits and vegetables, such as spirulina, acai, pomegranate, blueberry, broccoli, kale, and beet.
MEGA FOOD WOMEN'S ONE DAILY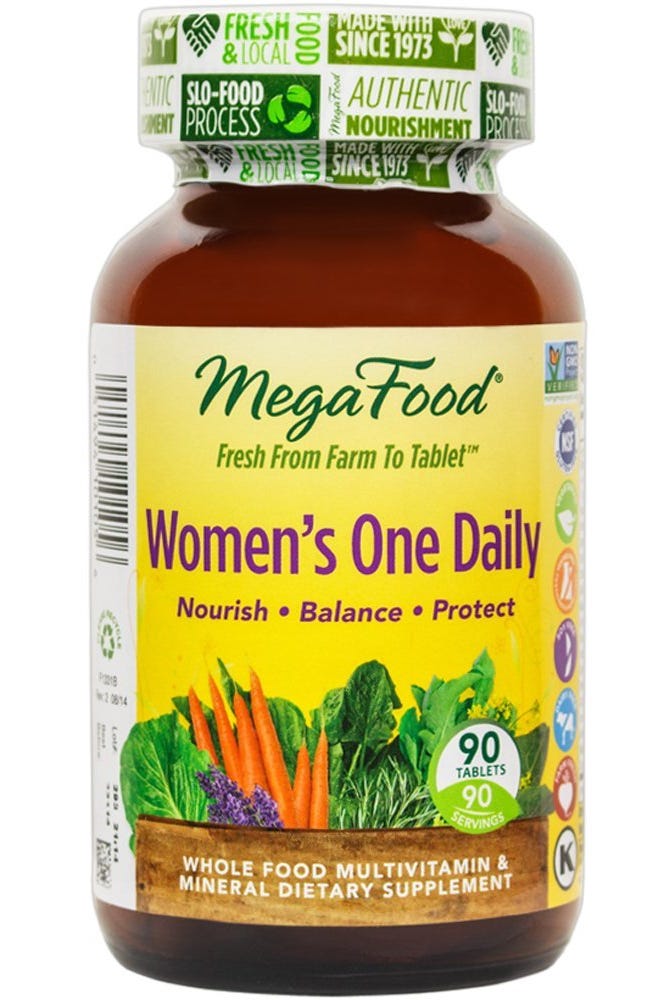 BUY NOW: $50, amazon.com, jet.com
On their website, this New Hampshire-based brand lists their numerous "sweet certifications," which include gluten free, dairy free, soy free, vegan, vegetarian, farm fresh, Kosher, and non-GMO. Plus, these supplements are tested for pesticides and herbicides, follow the Good Manufacturing Practices guidelines (which follows processes and procedures to confirm quality, strength, and composition), and are given the stamp of approval from the International Organization for Standardization ("a voluntary body that sets standards for quality assurance").
GARDEN OF LIFE MY KIND ORGANICS WOMEN'S ONCE DAILY MULTI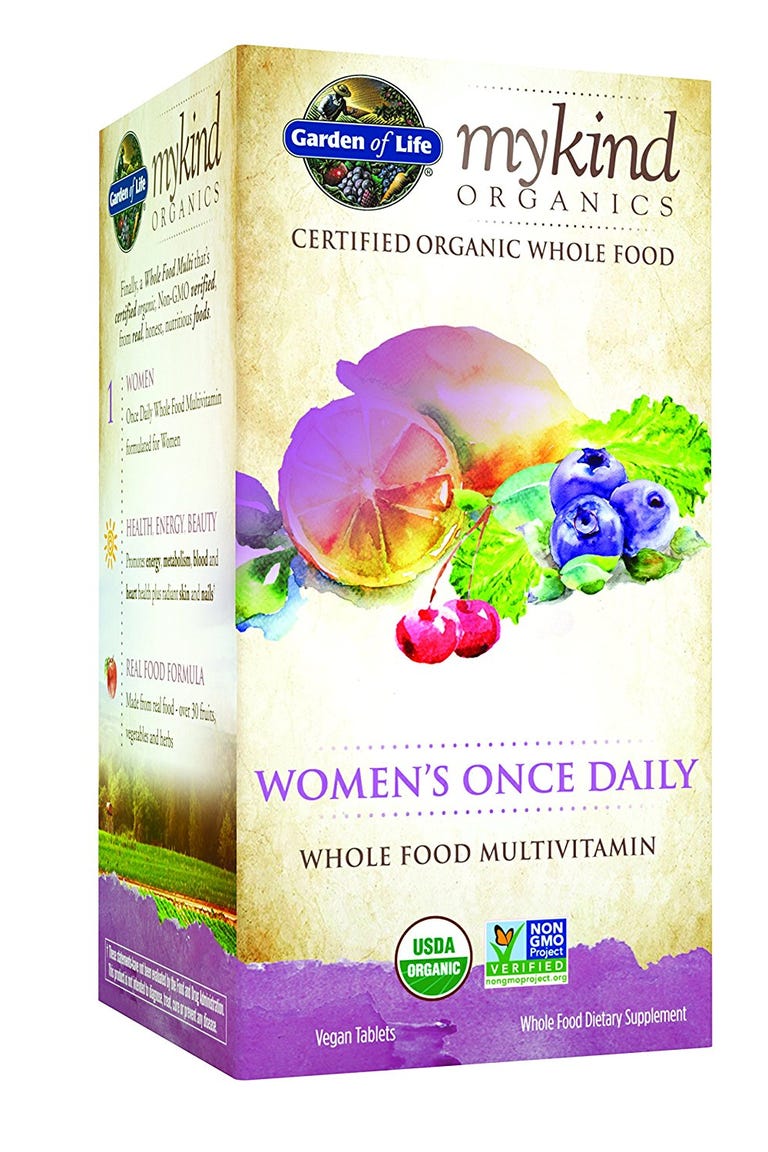 BUY NOW: $22, amazon.com, walmart.com
A supplement made from certified organic, non-GMO verified whole foods, this product does not contain artificial flavorings, preservatives, and sweeteners, as well as stearic acid (a waxy natural acid found in animal and vegetable fats) and titanium dioxide (an inorganic compound used to brighten products).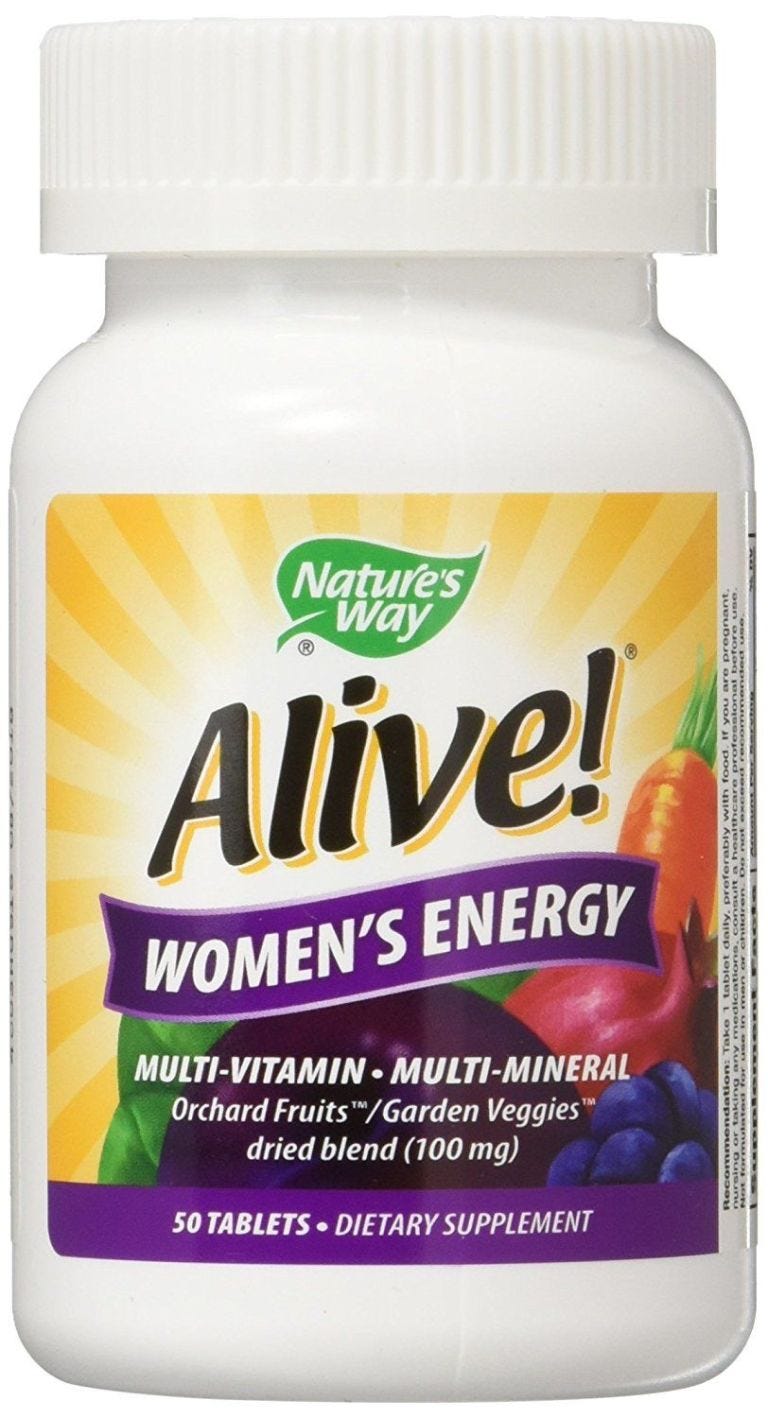 BUY NOW: $9, amazon.com, walmart.com
Available at numerous supermarkets and pharmacies across the country, this multivitamin also contains boron (a trace mineral that helps to improve muscle mass and brain function) and lutein (which can boost eye health), along with a powder
blend of 26 fruits and veggies, including broccoli, pumpkin, apple, and tomato.
NEW CHAPTER EVERY WOMAN'S ONE DAILY MULTIVITAMIN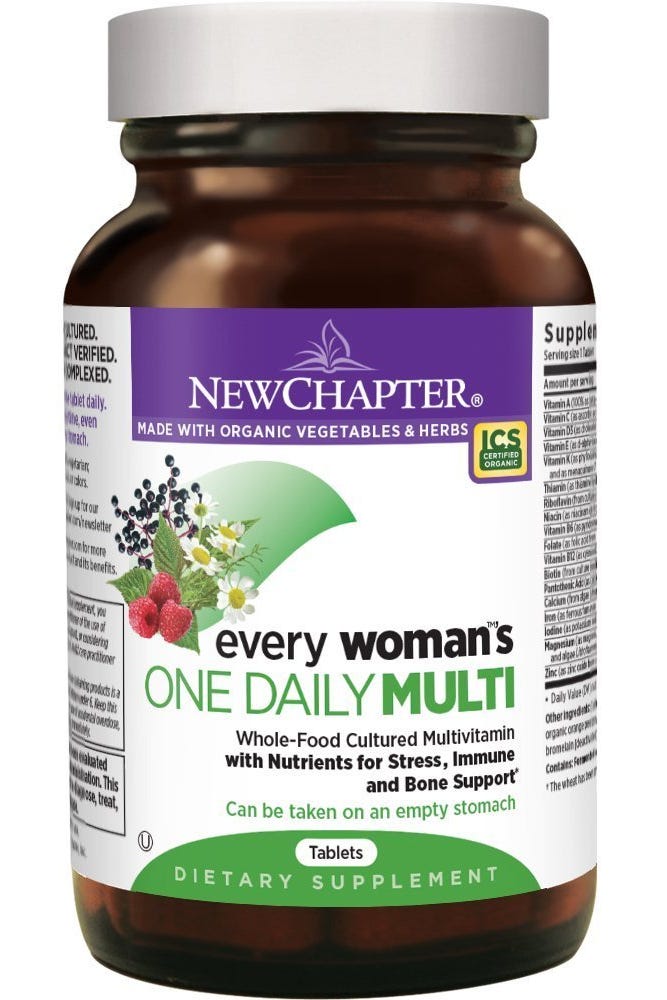 BUY NOW: $15, amazon.com, jet.com
Winner of the Delicious Living's 2016 Supplement Award, this multi is fermented with certified organic and non-GMO whole foods and beneficial probiotics. Each of their products are designed by holistic specialists and tested for harmful substances, such as heavy metals, residual solvents, and pesticides.
NOW EVE WOMEN'S MULTIVITAMIN
BUY NOW: $13, amazon.com, jet.com
This vitamin is both vegan and vegetarian and contains three superfruits: pomegranate (which contains nearly three more antioxidants than green tea), acai (which is known to boost the immune system) and mangosteen (which are loaded with fiber, vitamin C and B-vitamins).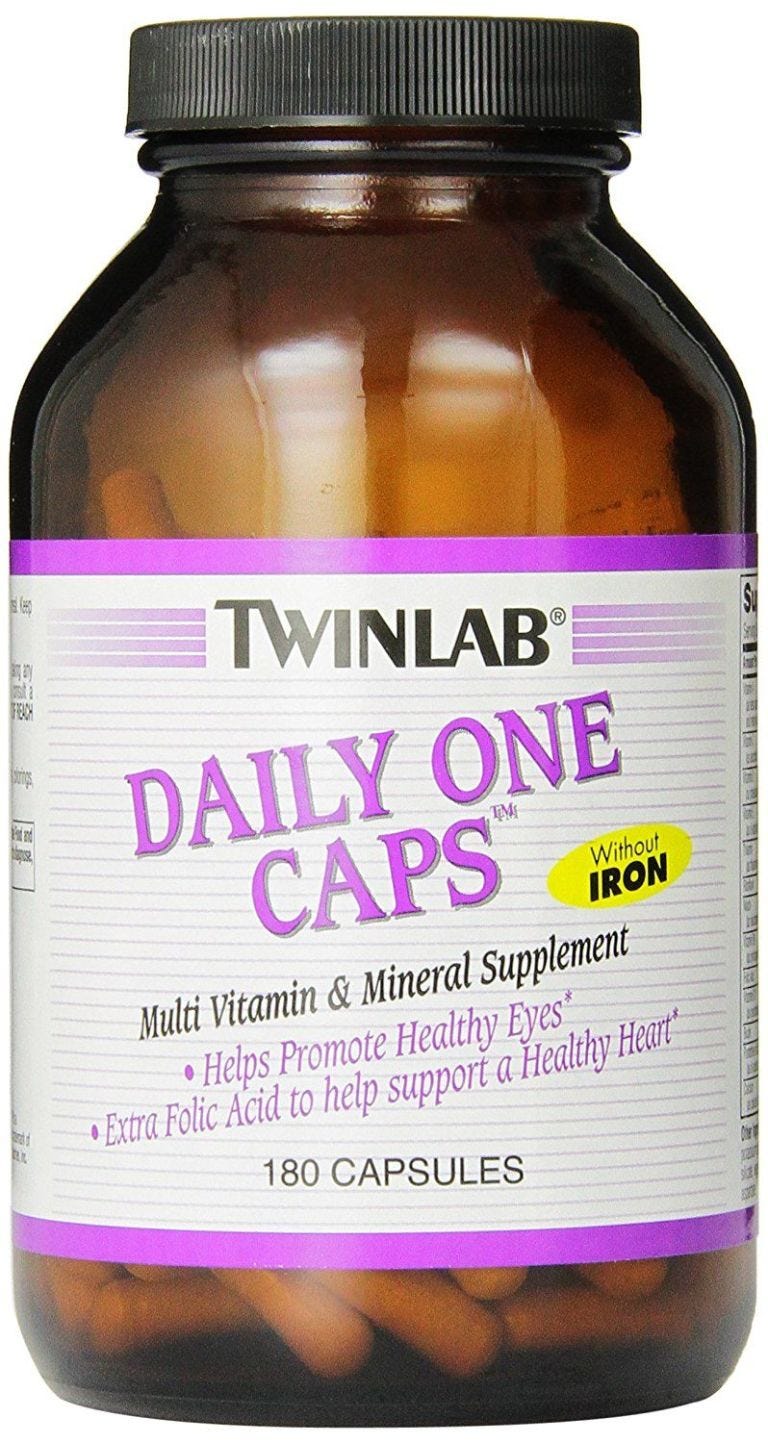 BUY NOW: $20, amazon.com, walmart.com
This vitamin is both vegan and vegetarian and contains three superfruits: pomegranate (which contains nearly three more antioxidants than green tea), acai (which is known to boost the immune system) and mangosteen (which are loaded with fiber, vitamin C and B-vitamins).
OPTIMUM NUTRITION OPTI-WOMEN
BUY NOW: $12, amazon.com, jet.com
Approved by the Vegetarian Society, this supplement contains 23 essential vitamins and minerals with iron, folic acid, ostivone (a mineral which can help maximize bone density) and uva ursi (a plant which boost urinary tract and kidney health). Also, their website claims that they will "reject entire truckloads of raw materials" if they do not meet the company's high standards.
source: https://www.womansday.com